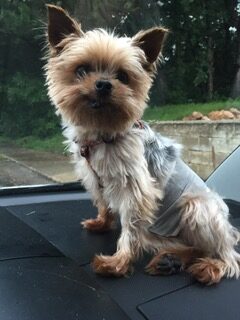 Saying goodbye to Carter is absolutely heartbreaking. Here's a little bit about this wonderful little boy.
Never having fostered a hospice dog, this 9-year-old was a challenge nervously taken. We were told to expect him to live for two to three months. After horrendous life in a puppy mill, Carter was diagnosed with a serious heart condition, had all of his teeth pulled, his lower jaw removed, needed multiple meds, and wore a belly band.
Carter entered a home with 4 wonderful dogs who accepted him immediately, but he was shellshocked and it was impossible to see his true spirit.
As time passed Carter transformed and it became clear that he was a gift. He embodied sweetness – forgiving his past and embracing his new life. His bossy Yorkie nature surfaced along with his strong attachment to his people and his furry siblings. Loving to be touched, to eat, to nap, and to walk, he was living the life he was meant to live.
Today Carter's life ended when his heart stopped. He was just months short of his 15th birthday. I am truly grateful that he left this earth without pain or struggle.
I can't begin to express all of the deep and meaningful lessons learned from this wonderful little boy named Carter. Thankyou buddy. With endless love…