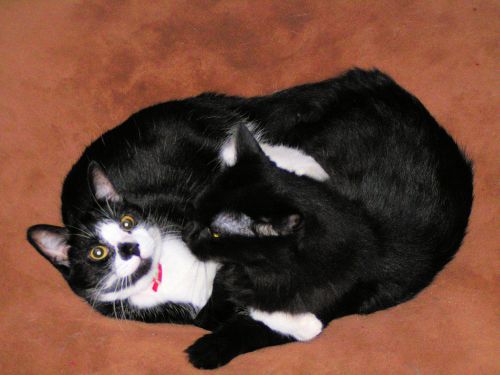 Passed on October 15, 2011
Dakota was my first cat, first adopted by my wife before we were married. When we were married and moved in together, Dakota came with us and became our first pet together. My wife's parents seemed glad when Dakota's wild antics weren't their problem anymore. Dakota was soon joined by Chester, our first puppy, then two other cats, Oreo and Skylar. He wasn't particularly fond of the puppy, but Oreo became his best friend and constant companion. She came into the family as a three month old stray kitten, and Dakota took care of her and stayed by her side.
Having other animals in the house calmed Dakota down and he turned from a cat that loved to wreak havoc into a calm and affectionate little companion. Whenever I sat down to read, Dakota would always jump up onto my lap, purring away with his little motor.
He had some health issues stemming from the time he ate an entire bag of green cellophane Easter grass during his wilder years, but he took everything with grace, purring away, even at the vet's office. After thirteen years, his health problems caught up with him and there was no longer anything else we could do for him. He kept his little motor purring up until the moment he passed.
He was our first pet together, and our house isn't the same without our little potato. His friend Oreo misses him, and so do we. Dakota, find Jericho and Diesel, and we'll see you all when we cross the Rainbow Bridge.
P.S. Please don't wreck any of God's furniture. I'll have enough to answer for when I get there.