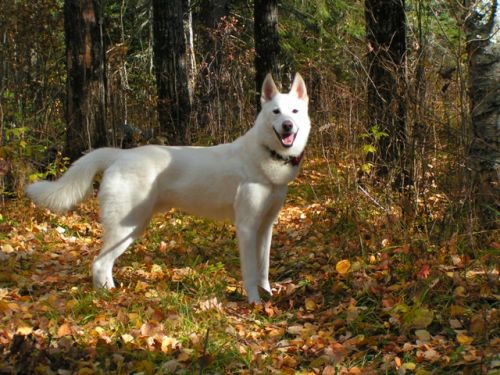 In June of 2004, we adopted Diesel, a beautiful White German Shepherd and Husky mix. He was 2 ½ years old and living at a foster home because he was unwanted. We always wondered why no one wanted this beautiful, majestic dog. He had separation anxiety issues from switching homes often, never knowing when he would lose the people he would get attached to. After we took him home, it took a few months for him to get over his anxiety, but he became a perfect dog. He was my constant companion and best friend, going to work with me every day and spending our days off going on walks or lounging around the house. He loved to walk in the woods at our favorite parks, and he hunted mice and moles with uncanny skill.
Who ever didn't want Diesel, you missed out on the most kind, gentle, well-mannered dog I could ever imagine. I have had other dogs, I do have other dogs, and I will have other dogs, and I know now that no one will ever match up to Diesel. I feel bad for my other dogs saying that, but it is true. Diesel was perfect.
After a battle with cancer, my wonderful and gentle friend has passed on. I trust God to watch over my boy until I come home.
Diesel, you were a bright, shining star; a majestic white angel. So gentle and so kind. I love you, and I'll miss you until we're together again, when we cross the Rainbow Bridge.