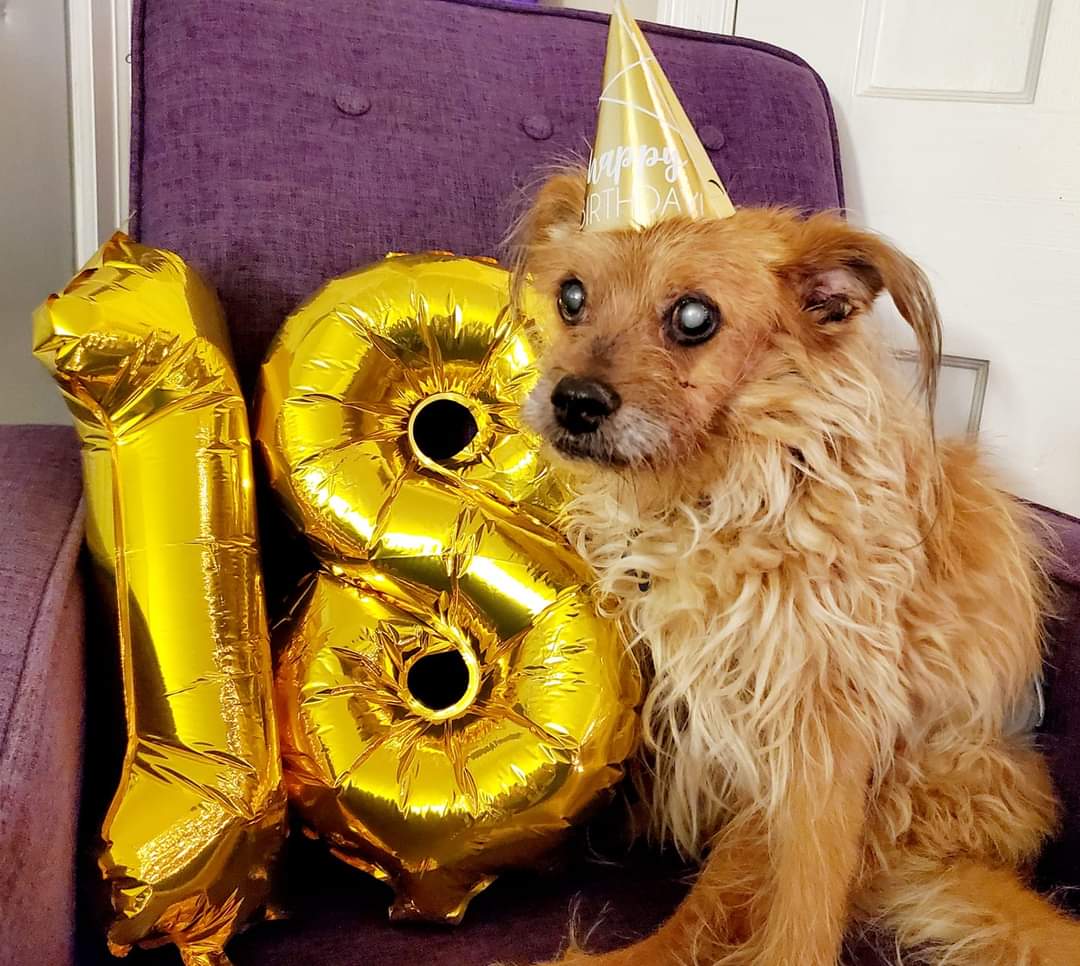 Passed on October 11, 2021
Manny passed away at home in his bed early in the morning of Monday, October 11th at the age of 18 years and 10 months.
Manny's mom and dad moved into a house together in late 2002 and started talking about getting a dog together.  Manny's mom loved Yorkshire Terriers and Brussels Griffons and was trying to decide what to get when she found someone with Brussels/Yorkie mix puppies in January of 2003.  It seemed like it was meant to be, and it was love at first sight as soon as Manny and his mom spotted each other.  She named him Manny after their favorite restaurant, Manny's Steakhouse.  Manny loved his mom and people would affectionately call him her stalker throughout his life.  He never let her out of his sight and would just spend time watching her or following her wherever she went.  Manny had some separation anxiety if he had to be separated from his mom.  So his parents brought home a dog brother to keep him company.  Manny and Chino got along great but his mom was always his favorite thing in the world.  On road trips, everyone else might sleep or look out the window in the car, but Manny would just sit and stare at his mom for the whole trip.
Eventually, Manny's mom and dad were married and they had two kids.  Manny was always a great brother to his human brother and sister.  He loved to play fetch and tug with a rope.  He was also excellent at cleaning up any food or crumbs that they dropped on the floor or helping them eat things that they weren't fond of.  He liked hanging out in the basement man cave with his dad in the evenings.  He considered the extra bedroom in the basement to be only his, so he would go down there and hop in that big Queen sized bed at night.  Looking at family photos throughout the years, the main focus might be one of the kids doing something funny or cute, but in so many of them, Manny is photobombing in the background.  Just always there, hanging out wherever everyone else was.  He wasn't one to just go lay down somewhere by himself. Manny always wanted to be with everyone else.  Eventually, Manny was a big brother to additional dog siblings, Hallie, Rocco, Gizmo, and Cash.  He was the best big brother and taught them all to stare at their mom.
Manny struggled with many health issues later in his life. He developed Canine Cognitive Dysfunction so he forgot many things over time and ended up having to wear diapers.  He lost his vision in the last few years and also developed a back issue that made it difficult to walk.  But he still loved being around his mom and never turned down any food or treats.  Since he has been gone, there is a huge empty space in his home that nothing will be able to fill.  Manny was preceded in death by his canine siblings, Chino, Hallie and Rocco.  He is greatly missed by his mom, dad, human sister and brother and his little dog brothers, Gizmo and Cash who will try to carry on his legacy of following Mom around the house and eating anything that anyone drops.