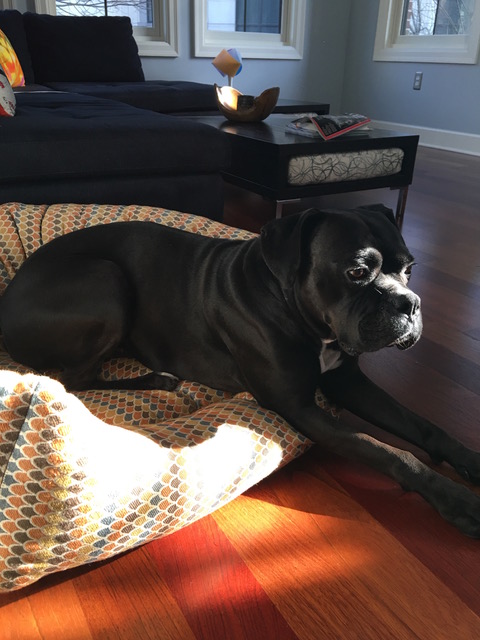 We rescued Rocky from MN Boxer Rescue in Feb. 2013.  He was a beautifully handsome black boxer who right away sat on our grandson, Jayden's lap at the Rescue event.  We knew from his photos on the MN Boxer Rescue Facebook page that we wanted him but we had to check out the other boxers; it was always going to be him.  We were supposed to take him home with us but his foster mom was new to the system, and insisted that 'Riesling', as she called him needed to meet a previously scheduled family even though the event was advertised as being able to go home with the dog of your choice.  Jayden and I were beside ourselves.
I called the board members of MN Boxer Rescue and finally, after a few days, we were able to bring Rocky home.
He was a big dog, had never walked on a leash and was afraid of every sound outside and jumpy inside.  I kept him on a leash in the house with me so that he would know that this was his house and that we were his parents now.
The second week that we had Rocky, Brooke came to stay because she had her tonsils removed and her family had the flu.  Rocky loved Brooke from the very beginning and whenever she was around he would lean on her and sleep on the bed with her.
We took him to the Canine Coach 5 days a week for 1 month, for training to walk on a leash and some other behavioral classes.  He was a rock star and at the end of the classes, he never walked ahead of us and always on the right side.
The second week into training, one evening at home, I sat on his bed on the floor with him, and when I stood up over him, he got spooked, jumped up suddenly and bit me on the upper lip.  I was mortified and cried all night because I already loved him and wasn't sure what to do.  I saw a doctor and didn't need stitches, and then spoke to 2 trainers at the Canine Coach.  The first one said that we should put him down or at the very least return him to MN Boxer Rescue.  The 2nd trainer who had worked with Rocky said that he was a good dog and that really I had invaded his newly acquired 'space' and frightened him in is his safe space.  She said that she thought that he would be a wonderful furry companion, which it turned out, he was.
Rocky was always afraid of mops or brooms so we think that in his previous living conditions he must have been mistreated.  He also had gum disease from gnawing on a crate that was too small for him so we ended up with surgery to remove many of his teeth that totally was worthwhile because he had become reclusive because he was in so much pain.  Right after the surgery he ate and was back to normal.
Rocky became overly protective of us, and especially me, with other dogs, so we returned to the Canine Coach for a day to learn techniques to help us manage that.  He was always tolerant, though, of Kea's boxers, Oscar and George, when they visited, and eventually Lenny and Sonny.  As he aged, he set them straight right in the beginning that he did not want to play with them but did allow them to lay on his bed with him occasionally.  Rocky did not like small dogs especially if they barked at him, which most did.
Rocky had anxiety about being left alone, especially in unfamiliar places.  He became a great traveler — so quiet in the back seat that we would forget that he was there.  Rocky never was boarded; we had our favorite pet sitter, Ellen, look after him occasionally, and Brooke and Darnell stayed with him every November when we were on our annual trip with Jayden.
Rocky never relieved himself in the house, ever, and even at the end when he had a raging kidney infection, he held it and begged me, with his eyes, to go out – thankfully I understood.
For most of his life he was a city dweller, who walked several miles each morning with us.  A year ago, we bought a cabin, and Rocky found new smells and adventured out into the woods on his own, in Dec without his coat or collar, for a few hours.  Jim walked the woods looking for him; we were all very worried.  Kea suggested calling the sheriff which we did, and thankfully a neighbor had seen him and given him some ham before Rocky went off with another dog to that dog's home.  This neighbor called the sheriff and we were happily reunited and immediately purchased a pet tracker for his collar.
Rocky adapted quite quickly to lake life, venturing down the hill to the water, many boat rides, walking in the water, and even jumping into the lake off the pontoon one day, which shocked us all.  He became more relaxed at the lake and more attached to Jim because he was around more.  He would ride in the side by side with him and wanted to everywhere with Jim, so generally, Jim took him with him.
Rocky was my office assistant because I work at home.  He relentlessly followed me up and down the stairs where-ever I went, even the day that we took him to the U.
Rocky was a handsome boy, everyone said that he was a 'good boy' and people loved to stop and pet him.  He was a lap dog in a large dog's body, laying across my lap at night.  He would lay in his bed beside me in my office, and went to our store on occasion, before his health problems made him aggressive with our team which was heart breaking because every one loved having him at work.
We really didn't know what was causing the change in personality and later found out that he had been in pain with his back and neck, was losing is eyesight, and had a heart problem that was worsening causing him to faint.
On Dec. 16th, 2021, Jim's 70th birthday, after a short walk at 7:30 pm, he began panting, walking in circles, and crying out in pain.  We knew it was time.
We miss him terribly; the house is quiet and there is no one wagging his tail and greeting us at the door when we return home.
Rocky was the best dog, the perfect dog for our family.  We were lucky to have 8 years of his life with us.  We think that he was 10 or 11 years old so the majority of his life was well lived and loved, with us.
RIP. Rocky Hawley