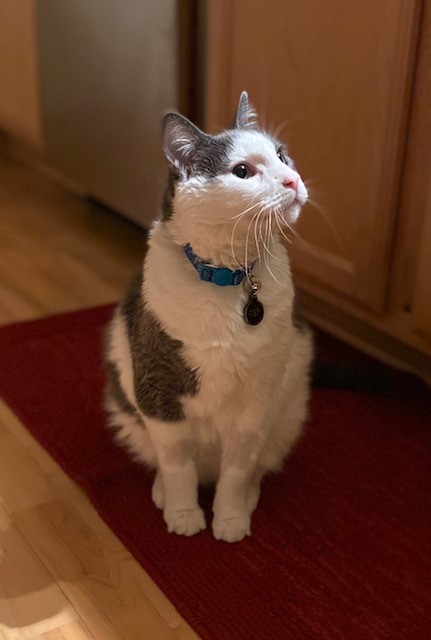 Passed on November 29, 2022
May 2010-November 29th, 2022
Roxas was compassionately euthanized on Tuesday, November 29th at Blue Pearl in Eden Prairie, Minnesota after a brief but severe battle with liver failure, pancreatitis, and kidney failure. Despite the rapid onset of his illness he was able to pass with his father at his side in his mother's arms. He is survived by his parents Brey Nelson (30) and Ryan Ringstead (30), and his adopted siblings Axel (11) and Calypso (4 months).
Roxas was brought home as a young kitten to his human mom in Minnesota just after the 4th of July in 2010. He was originally born on a farm in North Dakota in May of 2010.
In his youth, Roxas loved to play with anything and everything. No bottle cap was safe. He had fun wandering the apartment playground on a leash and was very social. He even accompanied his mom to her work as a home personal care attendant on several occasions! He was less welcome back after consuming most of a stick of butter.
Initially, he was wary and a bit jealous of his mom's boyfriend, which she started dating when he was still a kitten in summer of 2010. He warmed up to the idea of a second parent with the help of some pocket treats and in later years they would become incredibly close. At the age of 1, his adopted brother Axel was brought into the family specifically as an outlet for play and someone to keep him company, but he mostly felt indifferent about him. The feeling was pretty much mutual.
In later years Roxas's play drive slowed down and he became more of a mischievous lap cat. He had a strong love for food and treats, and on multiple occasions stole chicken nuggets, cookies, cheez its, popcorn, cheerios, and donuts. On one famous occasion he stole the entire chicken breast out of a Popeye's chicken sandwich, but he was prevented from eating it. He was always clever and learned to high five and jump through linked arms on command. Roxas continued to be social and friendly his whole life and would follow around friends, family, and strangers alike.
Roxas's many health issues started in his youth at about 1 year old with urinary blockage due to urine crystals. This was severe enough for him to require hospitalization and he developed significant vet only aggression after this, which lasted through his life. In fact, at Blue Pearl his chart and cage were marked with a chili pepper to warn unsuspecting staff of his spiciness. His urinary condition was well controlled with a special diet. He did go on to develop a heart murmur around age 9 and was diagnosed with cardiomyopathy. Thankfully, this didn't cause any symptoms but required a lot of monitoring he was not fond of. He had off and on struggled with sinus problems every few years, and the most significant infection occurred late 2021. In 2022 after almost 5 months of medication treatment with combinations of steroids, anti inflammatories, and antibiotics he continued to have struggles and was referred to Blue Pearl's specialty services. Summer 2022 after imaging and diagnostics he was diagnosed with a fungal sinus infection, a very unusual problem in an indoor cat. Sadly, the treatment for this caused retinal detachment and he was diagnosed as blind late summer 2022. Through his months of blindness he continued to be content and social, but would no longer play or run.
His final illness caused him to refuse food on Friday November 25th, and the family spent the 26th in the veterinary ER. He improved for a 12 hour period after that and returned home to enjoy what would be his last meal. After worsening again on Sunday the 27th, he was brought to Blue Pearl and admitted to the ICU on Monday the 28th in morning. He worsened over the next 24 hours despite ICU level care and interventions and the decision was made Tuesday afternoon to proceed with euthanasia in the evening. His rapid decline was both a blessing and a curse. While he did not suffer the family was not prepared to say good bye.
Roxas's many affections and antics will be deeply missed by friends and family.