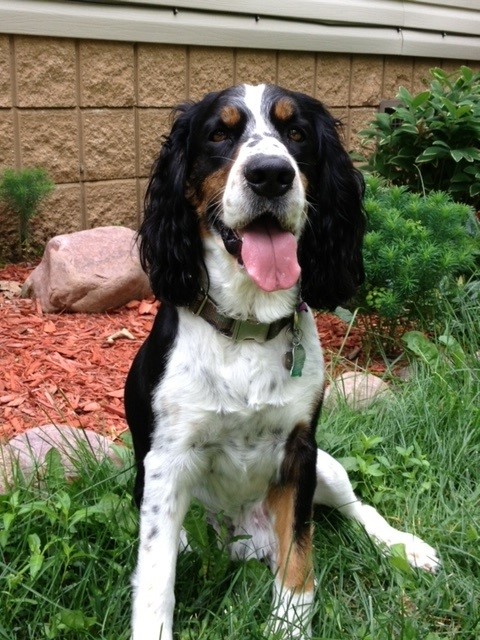 Trigger was such a special dog to our family.  He was a huge part of the family and our fur baby!  Trigger lived to the ripe old age of 15 years and almost 2 months, which is amazing!  We were so fortunate to have him for all that time!  He had such a zest for life, was extremely determined and never gave up.  He loved to play fetch and would often roll head over heels with the speed he gained trying to get to the ball before either of the other 2 in his pack did (he usually got it first so we'd have to try to trick him to give the girls a chance!).  He loved to go to our cabin in Birchwood WI and go swimming, kayaking, boating,  or just relaxing in the screen porch.  Swimming at "the island" was probably his favorite.  As we approached the island he would launch himself off the front of the boat and swim to the island (life jacket on, of course).  He could swim all day if we let him.  He loved to go for rides in our UTV as well.
As he aged, he had many issues, but never gave up.  He pushed thru a spinal stroke in 2018 which left one of his hind legs lame (he learned how to walk again!), then in early 2022 he survived a vestibular episode.  At that time we found out he had a brain tumor.  He was given up to 6 months to live.  He made it 10 months and enjoyed life to the very last day!  Trigger loved to go for walks, and when he wasn't able to walk much anymore we would pull him in a shaded wagon.  He would smile and sniff the air.  He also had a cart (sort of a doggie walker) that helped him get around while on outside adventures and he loved to wade in the water with it when he was no longer able to swim.  We did everything we could to make sure Trigger was pain free and enjoying life, no matter how mobile or not he was.  We were once told "if I was a dog, I'd want you guys as my parents".
Trigger will be sadly missed, but the many memories he left us with will ease our pain and bring a smile to our face!  RIP sweet angel-we will always love you!