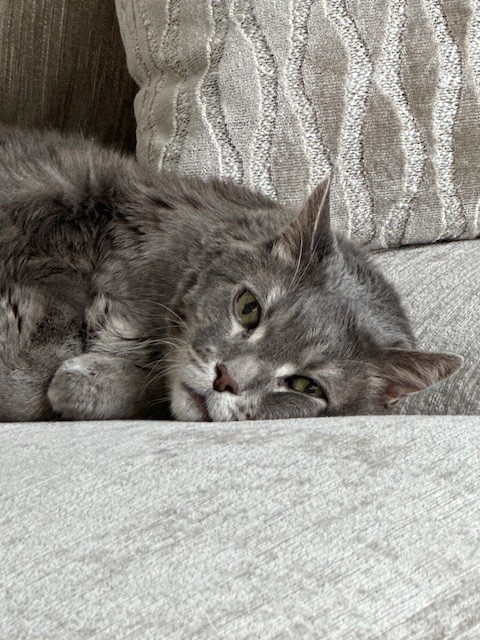 Passed on December 23, 2022
3/24/06 – 12/23/22
Bailey was such a unique cat!  He came into our lives from a small pet store in Har Mar Mall in May of 2006.  An impromptu purchase at best, my daughter and I bought him while my husband and sons were in Canada fishing.  My youngest son had always wanted his own cat, and when I saw Bailey that evening, I knew he was the "one"!
We brought him home to live with the five of us and our dog and our other kitty, Belle.  Belle, a calico, was never thrilled with the addition of her baby brother, and as much as Bailey tried, she never really did accept him.  He was fine with that though and bonded quickly with our dog at the time, and the three other Golden Retrievers that followed.
From day one, Bailey was a cat that had endless energy. He would zoom around the house daily and tried successfully to escape our home many times.  We ended up having to put notes on the exterior doors warning anyone coming in that he may be sitting in wait for a vessel to escape.  We spent many a nights chasing him through the neighborhood.  I recall my young children at the time playing with "Da Bird" with him to the point he would literally lay down panting. He loved being held though too, and was the most affectionate cat I have ever had.
The years passed and the kids grew up and moved on with their lives.  We lost his forever reserved sister Belle in 2019, and added two more kitties to our home. He welcomed each new addition like a loving father; taking each of them under his furry wing and nurturing them, often cleaning their messy little persian faces, and licking their fur. It was not unusual to find one or both of our persians nestled up next to him at any time of the day.
Bailey was a huge part of our home. He would sit outside on the deck with my husband and me when we had a nightly fire in the summer.  He would hop in his carrier to drive the 150 miles to our cabin in northern Wisconsin without a peep.  When he arrived at the lake, he would get out of his carrier and walk around like it was his forever home.
Sadly, Bailey was not a healthy cat, and endured many tummy troubles through his lifetime that led often to vomiting and other ailments.  From this undiagnosed illness, he developed a horrible fear of veterinarians, to the point he would be labeled "fractious" at one ER vet and referred to as "spicy" at another.  I recall picking him up at our home vet a few years back, and having them ask me to go get him out of the cage, as everyone was completely terrified of him.  At his recent hospitalization at Blue Pearl, he acquired a see-through astronaut helmet to keep the techs safe.  When it was time to go, they brought him out in his carrier and asked me to please retrieve their helmet as he wouldn't let anyone near it! That was my Bailey!  The sweetest cat. unless we were at the vet!
In May of this year, Bailey developed Diabetes and required twice daily injections and numerous ear pokes. I can say without hesitation, he was the best patient ever.  When it got close to his insulin time, he would literally come find me. It was like he knew his body needed it and took an active role in his healthcare. He never complained as I poked his little ears many times a day for glucose readings. He was compliant and happy.  Miraculously, after six months of treatment, he was declared in REMISSION in November of this year!  I could not have been happier that together, we had accomplished this great feat. My excitement was short lived however, as in the end of November he began having a lot of tummy issues again.  What we thought was pancreatitis, turned out to be lymphoma, and within ten days of that diagnosis, my best friend was tragically gone from this world.
Bailey is survived by his mom and best friend, Betsy, his dad, Pat, his human siblings; Alex, Abby and special boy, Blake, his fur siblings, Riffy and Bill; and dog friend Toby.
Thank you for all of the wonderful memories Bailey; you were truly one of a kind!  We will never forget you!