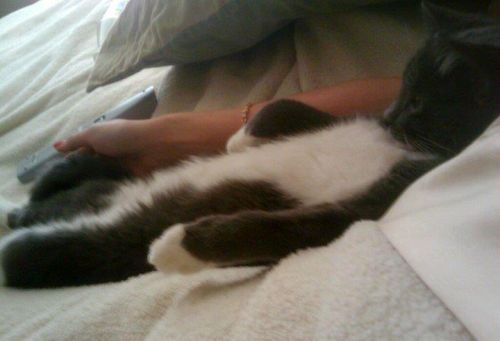 On Monday March 4th 2013 our baby Bella passed away peacefully on her couch looking out the window doing her last 'neighborhood watch'. Here is her story.
On June 24th 2010 at the humane society, I found Bella 'Boo' and fell in LOVE. I knew there was absolutely no way I was leaving with out her, and together we started our new life together.
After adopting her, I found out that she had a grade 6 heart murmur, that would later take her life. The Vet said she would unlikely live a very long life. I was devastated. How could this happen to my innocent sweetheart? I had the echo-cardiogram done, and they said she probably would not make it thru the anesthesia . However I was lucky it was not caught right away, or she would have never been for sale. From that moment I vowed to give her the best life that I could. I would take care of her and love her everyday. Little did I know then how much she would affect my life. She made me happy, made my day better, and loved unconditionally. I didn't know I could love like that. She was one of a kind, irreplaceable.
Bella had a huge personality, and she would talk or make these interesting noises when chatting with her. She had a quirky side of her that would make you laugh no matter what. She also had her lovey side that would make my heart just melt. She ruled the house, no doubt about that! She was so much fun, and instant happiness. My boyfriend Grant moved in and we became a family. Those two would play ball all the time. He would kick it, she'd run and swat it back to him. It was great to see her playful side come out. And I know that was their special thing, playing. Where ours was snuggles. We loved it when Boo was tuckered out with us.
We miss hearing her bell, miss her snuggles, miss her little chats, miss playing with her, petting her. Miss everything about her. She was my shadow, and I loved it. Over the weekend Grant made a comment that we were each others soul mates. I hope there is some truth behind that. We miss our baby, she was the best thing ever and we will always love her. We were very lucky to have almost 3 years with her. I wouldn't change a thing. Her last night was very affectionate with us, a little more that usual. We all had a good morning as usual, 6:30 breakfast (or dinner) for Boo! We both gave her extra attention as Mondays were hard for us after being with her all weekend. I know she went peacefully. We are fortunate for the great memories we will forever have of her. She was our baby, and I hope she is still with us. Those were the best 3 years of our life. We thank her for everyday!
With great love comes great loss I'm told. I believe we can attest to that right now.
I love you Bella, the most the most.
Xo