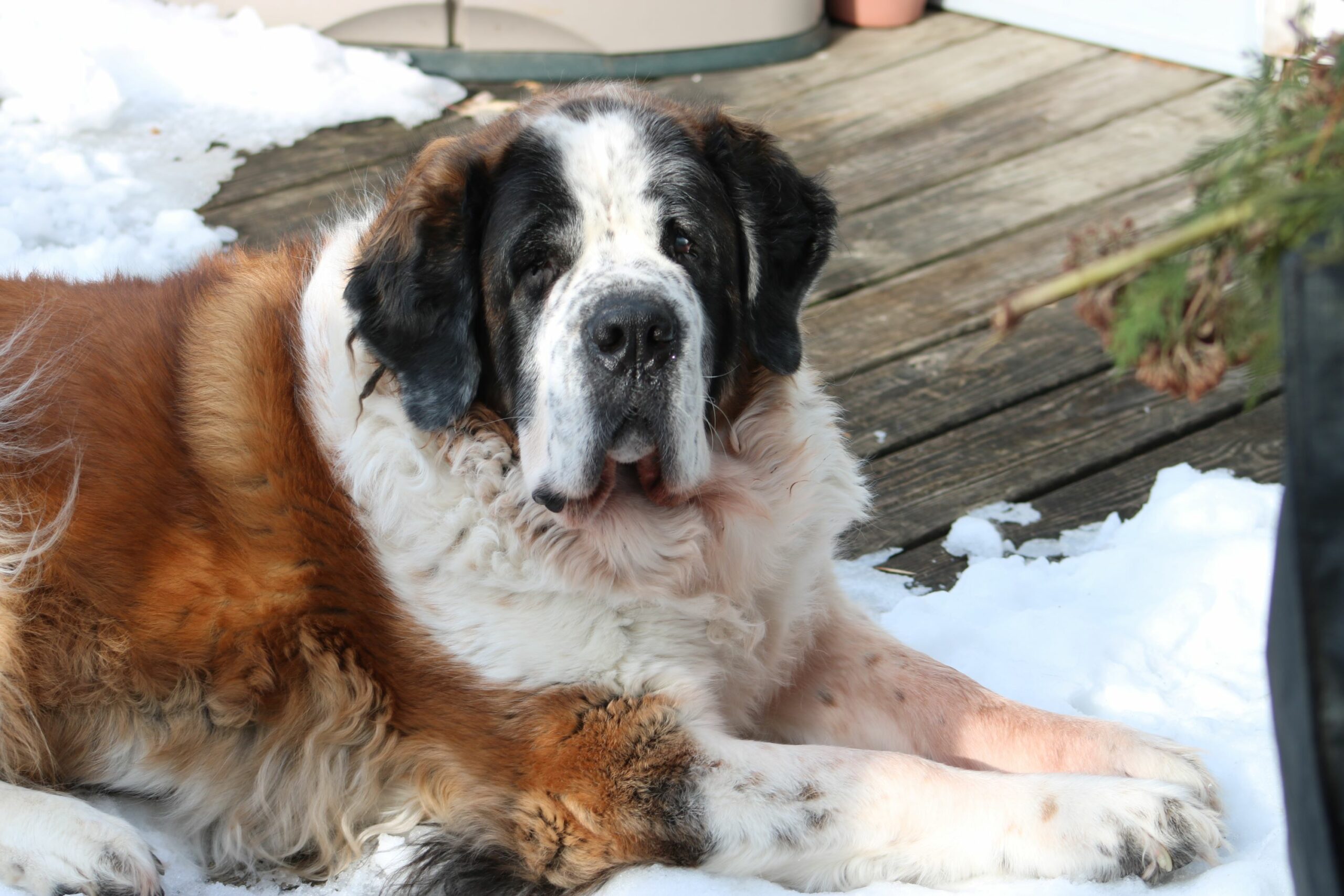 I found Bella through an ad in the paper when she was about 7 weeks old. Our beloved rescue dog  Luna seemed like she needed company while I was at work and my Daughter and Son were at school. Since I had several Saints in the past, I felt a Saint and a Great Pyr mix would be a good match.
Bella's mom had 12 puppies. I instantly picked her out of the available females available as one of her eyes was a beautiful blue. I was told a young man had just returned her that morning because his Grandmother wouldn't let him keep her. How lucky were we!!
She came into our lives at a time when we needed her the most and immediately fit right in.
She kept us laughing with all the silly things she would do. When she was younger 1-2 years old I came home from work and she was on her big pillow. She got up to greet me and I noticed something on her pillow. It was a raw potato she had gotten in the kitchen. She hadn't chewed on it so I picked it up and she followed me excitedly. As if to say "Hey where are you going with my potato!" I put it down to see what she would do and she carefully picked it up and brought it back to her pillow.  She had adopted a potato! She kept that potato for awhile and never did chew on it.
She also loved chasing chipmunks and red squirrels with Luna. They would team up and work together. Watching them you could see them communicating with each other. "You chase him this way, I'll wait here". She eventually did catch a couple over the years. She was so proud to show us prancing with it in front of us. You couldn't touch it she just wanted you to see what she did.
She loved going on walks in the park across the street. Sometimes we would go on the playground and Bella and Luna would go up the ramps and down the slide.
Bread was her absolute favorite. Even when she might not have been feeling great she was there for you if you had any kind of bread. Hoping for even just a small piece.
We were Blessed to have Bella this amazing St Bernard in our lives for 13 years and 4 months.
We said goodbye to her at home on July 20, 2023 at 9:02pm. Our hearts are broken and there is a huge whole left in our family. But we can find peace knowing she is running pain free with her sister/mom Luna and we will see them again someday.
 The Olsen Family
Deb, Khrys, Dustin
and Karma