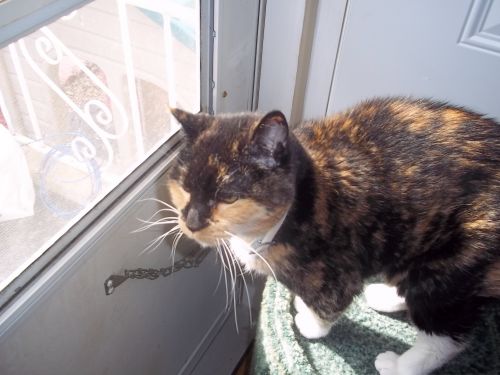 Passed on January 18, 2013
My Miss Binkey, left this world and continues her journey to the after life, on Friday Januaury 18,2013 She has been a part of our family for almost 18 years, and has left a void in our hearts a mile wide.
I first met her when a daycare family had purchased her for their youngest daughter from a pet shop. The very first weekend they had her they were leaving for out of town and needed a sitter and asked me. I was a little leary, as i had never had a cat before and was a bit scared of them. Also, I had a dog and birds, but i agreed, she was WONDERFUL to have around. When they returned 4 days later I was sad to give her back. Then, the following weekend they were leaving yet again, and asked me again to sit for her. I was happy to have her back around again, so I said YES. When they returned again I was shocked to hear her ask me if i just wanted to keep her, as the little girl had lost interest in her, and they were going to let her be an OUTSIDE cat !! I couldn't believe that this beautiful animal was going to just be left to the outdoors on a busy street to fend for herself.. so of COURSE, I kept her and she became a part of my life.
I have never looked back from that day forward. Because of her, and her love, I have gone on to resuce (4) other cats, one who has also passed on already, and (3) more that still are a part of our family. Binkey welcomed each of them into her home, never a problem, as well as another dog over the years. She had a heart of gold. She loved them all as much as I loved her. She was never sick a day in her life, and I was saddened to find out she had cancer. In the end she was a trooper, and still emitted so much love, even as she was in pain herself.
She loved to sit in sun, either on the window perch, or on a lead on the front steps. She cuddled down in bed with me every night, and was the first to greet me every morning, She also LOVED Christmas!!! She was always the first down on the floor to open her gifts and play with her new toys!!
My heart is full because of the love she gave to me, and i will forever miss her. There will never be another " BINKEY" she was one in a million. I feel fate sent her to me, so that i may know this kind of love, and expand my love out to the others who needed a home. She will live on in my heart and the hearts of all those who knew her, and for every other feline that becomes a part of my family, they have her to thank… she made me know the extreme love that a cat can bring. For this I thank her with all my heart.
Sleep well my little girl, and I know that C.G. & Gretal were there to greet you, and know in your heart, as I know in mine, that we Will be together again one day.
All Of My Love To You, Mom, Delsa, Stokely, Dexter, and Sabrina
Miss Binkey Reilly
3/17/1995 to 1/18/2013