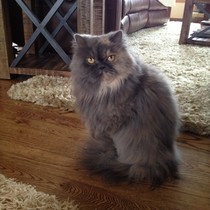 Passed on October 3, 2021
It was with a heavy heart that on Sunday, 10/3/21, he had to help Bonkers, our blue/cream, doll-faced Persian cat, over the rainbow to heaven. Bonkers was with us for 15 amazing, goofy, sweet, fun, joyful, silly, and LOVING years. We adored her, and she adored us! She had the best personality and made us laugh….ALOT. The memories we have of her are forever in our minds. She had my husband trained so she could get treats pretty much whenever she wanted. ha ha And those two had rituals in the morning on the screened porch to watch the sun rise, and lots of head scratching in the evenings on the couch. She slept with us every night. She always followed me around the house, no matter where I went. She was a mama's girl and my Punkin' Puss. Such a loyal companion for me!! We were devastated to let her go, but knew we were doing the right thing.
R.I.P., Bonkers. We love you always.