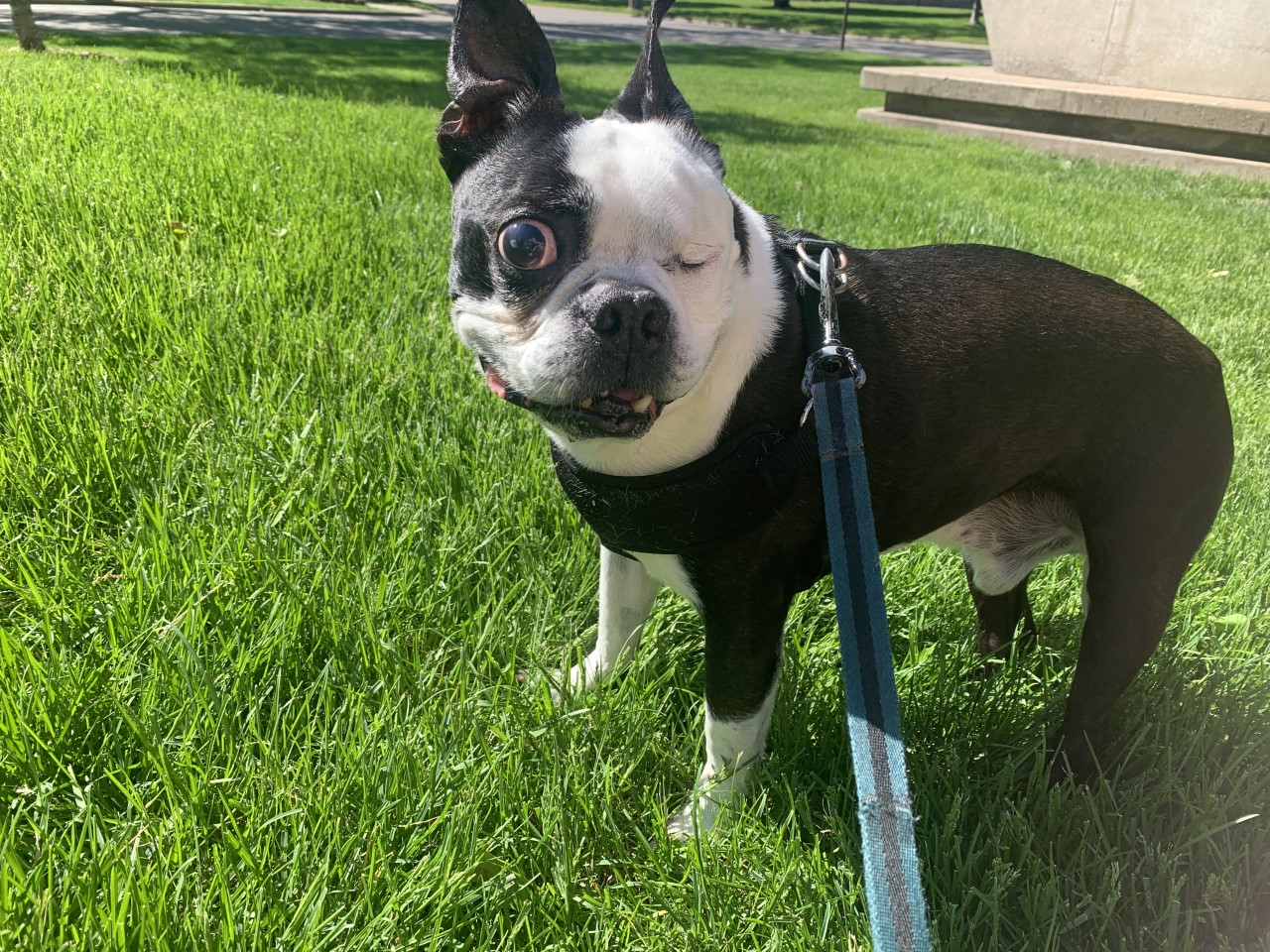 Bruce was an amazing, loving, and joyous dog. From the first day he came home and met our family, he was excited and made it obvious he belonged with us. Our family has a long standing tradition of naming our dogs after cartoon characters, so it was suggested to name him Tarzan or Popeye. But he was my dog and the decision came down to me and without hesitation I named him Bruce – with no character in mind (though Bruce the Shark from Finding Nemo and Bruce Wayne eventually came to mind and justified the breaking of tradition).
 He joined our family and was shown the ropes of how to be an Almgren Dog by our Brussels Griffon, Betty Boop. They napped together daily and stayed bonded together until Betty's passing in 2017.
Bruce was an extremely loyal dog, and knew he was meant to be my companion. He would follow me around at all times and almost never leave our sides (including trying to accompany me to the bathroom).  When he eventually met Emma, he would be just as lovingly clingy with them. As empathetic  as a dog can be, he was always in tune with our emotions and well being. If we had a hard day or our mood was down, he was always there to immediately cuddle us and be hugged. He gave kisses often and with gusto – not stopping until we had to push him off us. But those licks and kisses were cherished every time.
Bruce was a toy destroyer. He loved playing with any toy he received and was dependable to be able to rip anything to shreds within five minutes, and then still want to play fetch with the slobbery tattered remnants. Fetch was his favorite thing to do. He'd insist on playing it all day and we always joked he would play until he dropped. Christmases, his birthday, and just random Sunday afternoons sometimes he would get a toy and immediately have the time of his life until the next new toy. There are a number of toys he never got to play with, but his whole life was filled with nearly endless toytime.
In his time with our family, he experienced several state-to-state moves – a couple times driving cross country. And though a couple of the moves separated Bruce and me, I always knew we'd be reunited. And in 2020, after over a year apart, he came back to me in Minnesota and to his final home. Then was also when he met his new mom, Emma. Immediately he loved them and became protective and caring for them. He took his teachings from Betty on how to be an Almgren Dog and kept his promise to be as best a guard dog as a 25 pound boy could be.
He loved car rides – especially when he could get a dog treat from the baristas at our favorite coffee shops. At home he continued to play fetch with us and soccer with himself every day, loved going for long walks, and sniffing the breeze. He got many nicknames from us, most notably "Stinky" due to his skill to fill a room with noxious farts in an instant. But we never stopped loving him. It was always a reminder that he was with us and happy and relaxed.
Bruce went blind with cataracts in late 2015 and in 2021 he had to have an eye removed after it got an infection. Still, that never stopped him from wanting to play, nap, and be the extraordinarily loving dog he always was. As signs of something going on with his brain started appearing, we hoped he had longer than he inevitably had. Still, until his final days he loved being active and never changed being his playful self.
His final days were hard following a sharp decline in his mental state, a severe seizure and the aftermath, and increasingly declining health. He was put to sleep with the help of South Metro Animal Emergency Care on June 21, 2022. It was a sunny day on the summer solstice and he got to sniff the breeze one final time.
He will be missed greatly by all those who knew and loved him. The love he gave will always be with us. 13 years was a long life for a good boy like him, but it wasn't long enough for us. We're extremely grateful to have been blessed with Bruce and love him still.