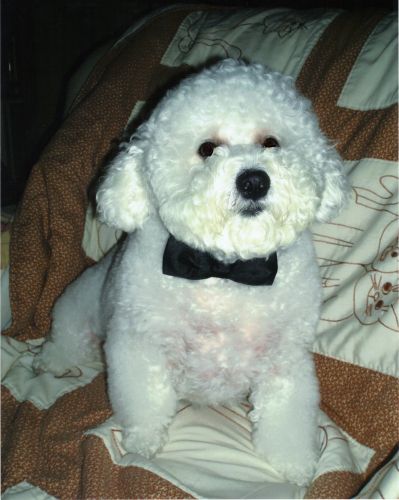 Passed on September 30, 2011
On Mother's Day over seven years ago, my daughters wanted to find a Bichon Frise for me because they knew how much I wanted one. We drove to the south side of the Twin Cities, where we found a family who raised Bichon puppies. They had three males, and the one in the middle was so cute I couldn't keep my hands off of him! He was precious. From that day on Cowboy was our Baby and every one loved him!
Dick taught Cowboy cute little tricks and he was smart, beautiful, and precious. He had a wonderful groomer who groomed him once a month and she loved him because he was so much fun and never snapped at her. His eyes were dark and in winter his coat was full. He loved us dearly and we loved him. He always rode in the car with Dick.
All of a sudden in March of this year Cowboy was diagnosed with diabetes. It broke our hearts. Dick would give him insulin twice a day. I spent most of my days caring for Cowboy and he was doing very well until Friday, September 23rd. He was back and forth to the vet for the next week, and they said he could come home on Friday, the 30th. On Friday at 7 a.m. the vet called. During the night Cowboy went into cardiac arrest and they could not bring him back. His little heart just stopped.
Our love for Cowboy will always be in our hearts. We have had Irish Setters who drew many awards, and we had beautiful cats and a beautiful dog, all of whom were wonderful pets. But my heart has been hurting for two weeks now and it will always hurt because our little precious Cowboy was sweet and very unique.
When he was well last summer he went with us to the Whisker Whirl at the Minneapolis Animal Party. He wore a black tie and looked beautiful.
Thank you, Skip and Carol of Pets Remembered, for all you have done for us. We thank you for your love and support. I love the card with his little white curls and his precious paw print – it will always be with us. – Dick & Jean