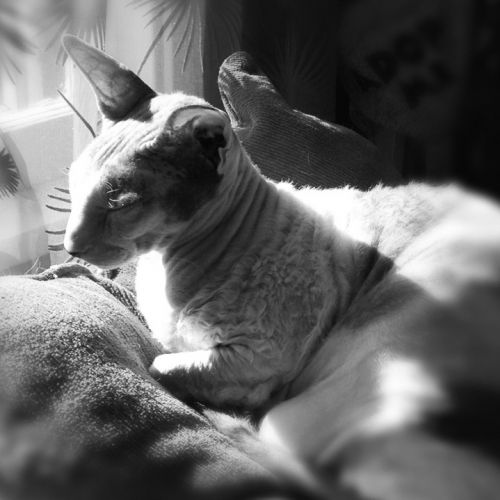 Passed on January 1, 2012
Jada came into my life for the purpose of comforting my cat, Cato, who was struggling with kidney failure and to comfort me when he eventually passed. I knew it would be a hard time, so I felt it might be a good idea to be prepared to fill the empty space I knew was coming. Little did I know how seriously she would take her little job. She won Cato over after a few grouchy weeks from him. Little by little and inch by inch she worked her way toward him. Eventually, they would be inseparable. Cato was a lucky cat, he always had her near when he was feeling bad. He survived another 3 years. When he passed, I thought Jada might blossom on her own and be a shining only cat. But she really never seemed to be happy with that. So I brought Junie home to keep her company. Again, she cuddled with her immediately and they became best buddies. Always sleeping nose to tail or nose to nose, in perfect kitty symmetry.
When I started fostering small rescue dogs, she was never afraid to approach them. She approached them slowly and would sleep on a corner of their blanket if they would let her. And then eventually, she moved in closer. She was an indiscriminate snuggler.
I believe she was meant to be a comforter and a true pet companion.
Even though she was a super snuggler, she also had her moments. Seriously, the most demanding cat I have ever encountered! Her food schedule was THE most important thing during the day and she let everyone know it. If the food wasn't on the table when she was ready, she yowled and howled, paced around and pushed things off tables. It was amusing, but also hard on the ears. I can't believe I miss that, but I do. The house is much quieter for it.
Sadly, her health was never great. She struggled with allergies, a heart murmur and respiratory problems. She always struggled with her breathing, especially in the winter. I noticed that she seemed to be having a more difficult time, but she just seemed to be sleeping more. So I let her be. I feel somewhat guilty that I didn't notice how bad it was and didn't cuddle with her more before she was really having trouble. She retreated and hid her true discomfort until it was too late. I'm sad that she spent her last few days pretty much on her own. Her little heart gave out and she died at home on New Year's Day at only 8 years old, with Junie, Weston, Jake and me nearby.
I am hopeful that she can now join her sweet Cato and be his snuggle buddy once again. Miss you my little girl.