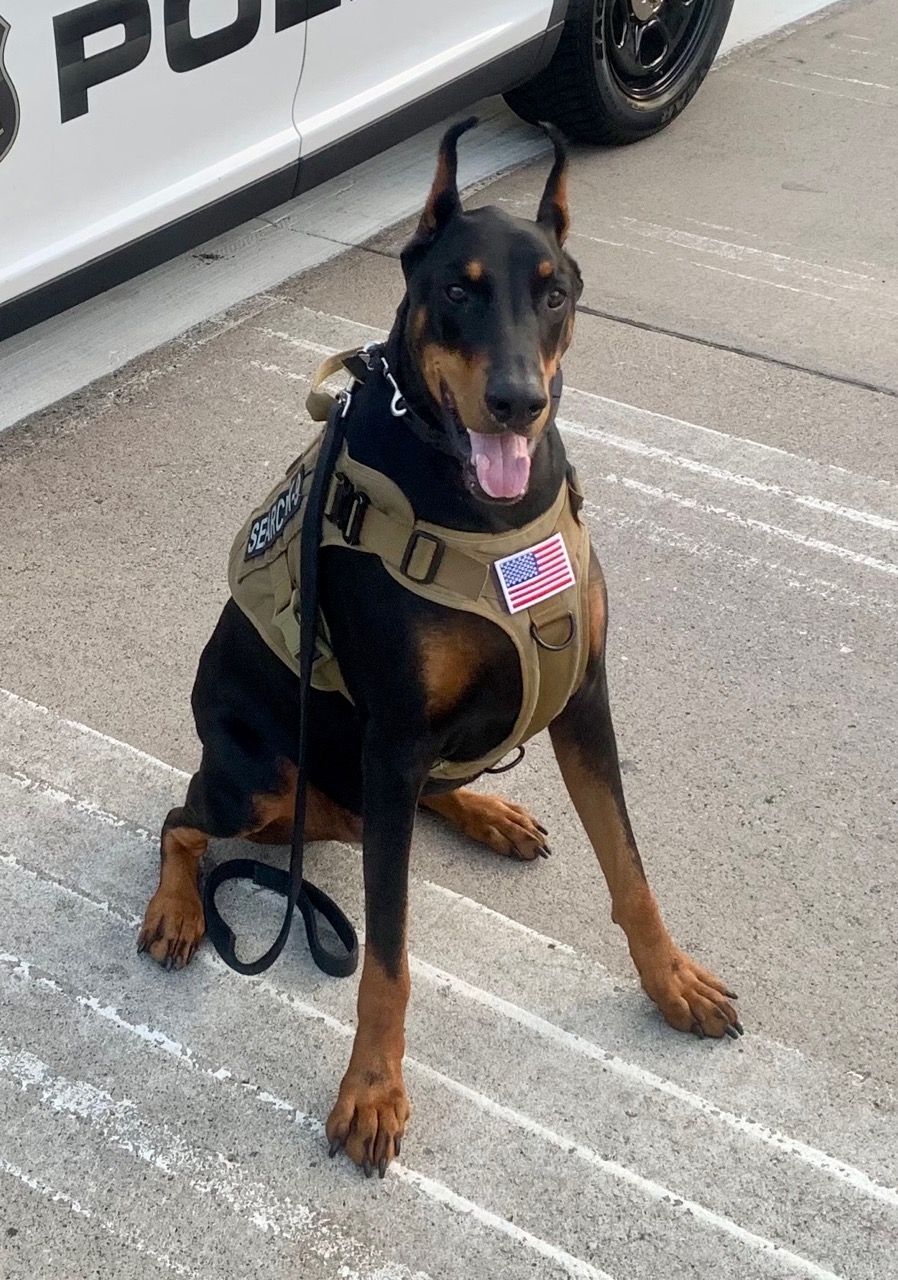 Passed on September 13, 2022
Rest in Heaven, K-9 Lincoln
Lincoln, of Minneapolis, a pure bred Doberman Pinscher and Area Search dog, sadly passed away on September 13th, 2022 due to DCM (dilated cardiomyopathy).
Lincoln was born on February 22nd, 2016 to Edward and Vixen of King's Ransom Dobermans in North Branch, MN.
During his life, Lincoln earned his puppy certification from Lucky Paws at 3 months old. At 10 months old, he earned his American Kennel Club Canine Good Citizen (CGC) title and certification from Animal Humane Society. A short time later, he earned his Area Search certification from Law Enforcement Training Specialists and Minnesota Search and Rescue Dog Association (MinnSARDA). He served as an Area Search K9 for 4 years. During that time, he and his handler, Greg, were members of MinnSARDA, a nonprofit organization that partners with law enforcement to locate missing persons. While a member of MinnSARDA, Lincoln also enjoyed doing search and rescue (SAR) demonstrations for the public, interacting with families that wanted to meet working dogs, and walking in parades that honored first responders.
Following his retirement from SAR, Lincoln was enrolled in a clinical research study that aimed to improve the duration and quality of life in Doberman Pinschers diagnosed with DCM. The study was held by Chi University and University of Florida. He also formed a heartwarming relationship with the cardiology department at the University of Minnesota Veterinary Medical Center.
When Lincoln was not serving the public, he loved spending time with owners, Greg and Hope, as well as his feline sister, Delia. He also enjoyed spending time with his canine buddies Monty and Lars, and many other pups that his owners often cared for on Rover. Lincoln also enjoyed chewing bones, hiking, swimming, going to dog friendly parks and establishments, chasing squirrels and balls, greeting new people, going for walks, and watching over the kitchen as Hope cooked food. Lincoln could have been labeled a velcro dog who loved doing everything and anything as long as his handler, Greg, would join him.
Lincoln was an excellent SAR partner. He gave 110% effort to everything he attempted as long as he was rewarded with a rawhide and a game of tug. He also never failed to find people located in his assigned search areas and excelled under difficult circumstances. For instance, he passed one Area Search evaluation by covering 5 miles (in grid length) in 100 degree temperatures. One year later, he crushed another certification test despite a wide 200-yard area of thorn bushes inside the search area. In order to locate the person, he thoroughly breezed through the thorn bushes multiple times to grid the area. Furthermore, during a regional SAR training, he participated in a 5 minute challenge: find as many people as possible in a large industrial area in under 5 minutes. Lincoln located everyone, 3 people total (2 concealed in thick, fully enclosed concrete blocks with very small air holes).
Lincoln rarely hesitated to take on icy, muddy, watery, cold, and low-light conditions while working. During one search, he was willing to jump in the Mississippi River's rough current to clear the area. But thankfully, he also had the awareness to ask Greg first, who had him connected to a long leash. Lincoln even approached basic obedience training with the same tenacity. During his CGC and puppy evaluations, he outperformed more mature dogs.
Lincoln always had unique grit and perseverance to excel at challenges thrown his way. He also portrayed gentleness and kindness that often confused people who judged him from afar by his breed and giant stature. He was truly authentic, and was often referred to as majestic and beautiful.
Lincoln's life reminds us that true value only exists by bravely attempting to accomplish what the masses will never try to do. His life will echo into the future to hopefully eradicate DCM, encourage people to own a Doberman Pinscher, and be an example of the amazing things that dogs can accomplish.