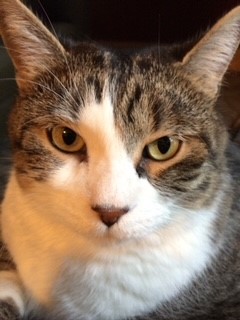 On Monday, March 28, my beloved, sweet cat Loomis passed away from kidney disease, just a few weeks shy of his ninth birthday. Loomis loved everyone, loved attention and was a complete sweetheart.
Loomis chose me to be his Mommy in September 2015 when he was two years old. The first thing he did when he was handed to me was hug me. Loomis LOVED giving hugs and snuggling as close to someone's face as possible. He especially loved laying on my chest, wrapping his arms around each side of my neck and kneading my shoulders.
An indoor cat who fancied himself an outdoor cat, Loomis spent hours by the windows, monitoring the every move of the birds, squirrels and rabbits in the yard and he loved sitting outside on my lap. He was playful, mischievous, curious and silly. Loomis loved his shark bed, sleeping in his bed in the "cat cave" (closet), playing with his blue mouse and batting his various crinkle toys or twist ties around a cardboard box.
Loomis also enjoyed going on the bathroom counter in the middle of the night and knocking everything over. He also had a habit of nibbling at my feet and ankles, especially when I was cooking. Loomis enjoyed being in charge, getting his way and calling the shots. He had me wrapped around his little paw.
I am forever grateful he picked me and for the years he was in my life. Nothing will ever be the same without him.  I will love and miss him forever.
I love you, Loomis. You were always a good boy. You were the best!! Mommy misses you and loves you so much!