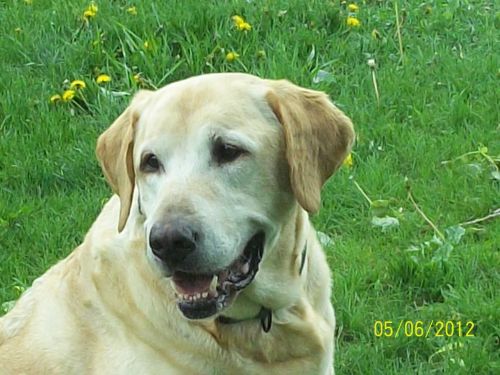 Passed on October 9, 2012
Marshall let me adopt him from Southwest Metro Animal Rescuue a no kill shelter. When I saw him in person at one of the shelters adoption days I knew then I fell in Love with him and had to bring him home. He was a senior dog when I got him but that didn't matter to me, so am I, so we fit together very well. We went to the Airport Dog Park Twice a day, every day, for our walks. Everybody at the park loved him very much~both dogs an people. He was a gentle gaint. Real tall for a Lab. I gave him lots of hugs and kisses everyday. I miss him so much.
My best friend Marshall~at the end of your life~it all happened so fast~I barely had a chance to say goodbye. You got sick~took you into emergency on a Saturday night 7pm, they did surgery and you never really came out of it passed away Sunday morning 4am 12-9-2012, I was there with you.. My heart is with you~I Love You Marshall~I did my best for you that I could. I don't know much about his past but I do know he had a good life with me.