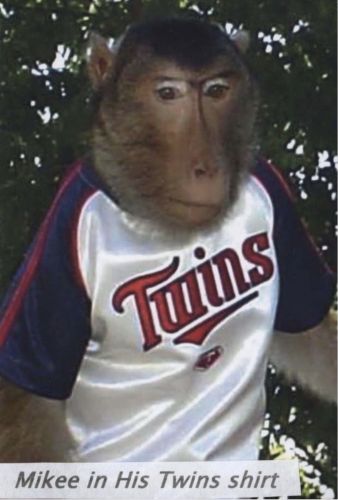 When I lost my animal companion it was like many other heartbreaking pet losses — he was more a family member than a pet. He was more human than he was an animal. When he looked at you, it was a human look at you… He wasn't my pet; I was his human. Mikee, my macaque monkey, died unexpectedly last month of heart problems, just shy of 20 years old.
My wife, Beverly, and I bought Mikee after our five children had grown. Soon after we got him, Minnesota banned exotic animal ownership, but we were grandfathered in.
First he was my wife's baby, he liked to cuddle up to Mama and he was just a little tyke; he fit in the palm of your hand. But when he got to be a bigger boy he wanted to be a macho boy and go to work with dad. He didn't want to sit out and be a baby; he wanted to get out in the world and do things.
Mikee spent his days in his room, where his big-screen TV was preprogrammed for channels such as Animal Planet and the History Channel and the show "Modern Marvels." (Left to his own devices he'd probably watch the wrong thing — he was like a kid.)
He was picky about his clothes, too, and didn't want to be naked. I would lay out outfits and Mikee would toss the ones he didn't want that day and hug the ones he did. Most recently he was into Under Armour.
We got Mikee a kitten not long before his death, and the two became fast friends, the kitten offering up his tummy for grooming and Mikee obliging. The kitten was something to play with when I wasn't home, and he was so gentle and the cat just loved it. He would lay down by him and (Mikee) would rub him down,
Those who knew Mikee from trails and parades knew that if you wanted to befriend him, first you had to "demonkey-size yourself" — remove your hat, glasses and hoop earrings, lest he toss them off their faces. As Mikee relaxed around people, they could kneel on one knee and he sat on the other knee. He also checked pockets. He was accustomed to many fans carrying treats for him in their pockets — unsalted peanuts, red grapes and other things he liked.
A woman who knew me and Mikee from Como Lake asked if the two could surprise her large group of women friends reuniting from different states. I agreed, but cautioned the woman that Mikee might be shy with such a large group. Oh no, he sat on every woman's lap, hugged them and kissed them on the chin, every single one of them — all 37 of them. He was hammin' it up to the women. After all he was a teenage boy.
There will be A Celebration of Life for Mikee the Monkey from 1 to 7 p.m. Sunday, Nov. 5 at Czech-Slovak Hall (C.S.P.S. Hall), 383 Michigan St. (at West Seventh), St. Paul