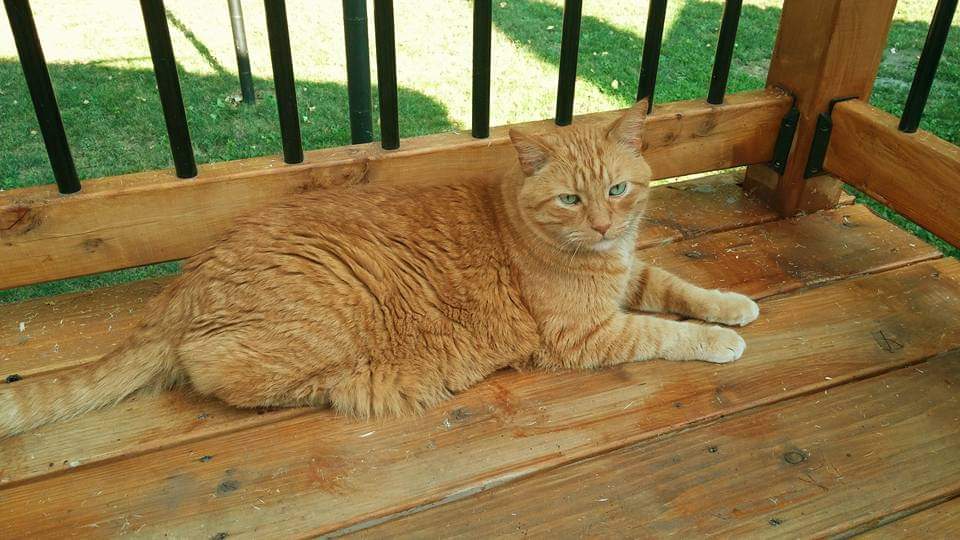 On a lovely Spring day in 2004, our then11-year-old Hannah came home with 2 tiny kittens. She claimed to be fostering the sibling felines….and they soon became a foster failure. I told Hannah we would only be able to keep one of the kittens and the other was welcomed into a coworker's home. Flash forward 17 years, BOTH kitties were still thriving!
Our world changed for much the better the day that Milo arrived. We were all immediately attracted to that feisty, handsome lovebug! He graced our home and received so much love and the best of care a kitty could hope for. He helped us raise our babies, became the neighborhood's favorite feline, and especially loved little Ami next door and she adored him in return. He pranced through the open gate at the front of her house often and stretched out in their lush green yard amongst the flowers, waiting patiently for Ami to dote on him. When Milo wasn't visiting Ami, he could be found playing in the house with his catnip toys, sleeping, snuggling next to family members, sipping water out of our CNN mugs, (they were bigger than the average mug, and he could fit his entire face in them), or enjoying a delicious meal fit for a Milo.
Milo found many paths to our hearts. He often tipped his food/water bowls just slightly on the ceramic floor as a means of alerting us that he wanted food, while deadpan staring at us…please note, many times, this was not a need, it was a WANT. Another attention getting device was flinging glasses off the countertop. Mind you, these were rarely plastic cups.
Sadly, yesterday morning we had to say goodbye to our 'My-My'. Throat cancer slowly took him from us over the past several months as we met with specialists in an attempt to find a miracle…. It apparently wasn't meant to be. We laid him in his favorite bed outdoors, kissed him, and sent him across the rainbow bridge as he gazed up at the deep green leaves of the trees while listening to the birds singing one last melody to him on earth. Our profound thanks to Dr. Anderson & Dr. Larry, Milo's OUTSTANDING veterinarians; Veterinary Assistant Matt, and the rest of the caring staff at Valley View Pet Hospital. We would also like to thank the DVM's and staff at Blue Pearl Veterinary Hospital; and Pets Remembered for their kindness and compassion.
We are so incredibly blessed that Milo was a really special part of our family, and for so many years. Milo, please watch over us when you aren't socializing with all of the humans and furry and feathered family members in heaven until we meet again. We miss you so.❤