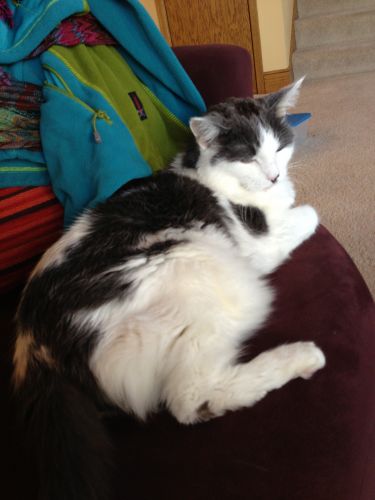 Passed on November 18, 2012
Mitzie Lee Forsyth-Kiser
Mitzie was born in 1995, we got her as a 6 month old rescue from the Humane Society. Her previous "owners" said she was aggressive. Hardly! She was so very timid, gentle and concerned about us all – all the time! (She would even sit bedside vigil if you were down with a cold or the flu!)
She loved strings, and her little plastic worm that she would hunt down and bring to us at night, yeowling proudly then tossing at us in bed.
She was a mighty huntress, catching us at least three mice over the years. Two others were found in the house, that we're pretty sure she "got".
Mama's Memory – She would sit at the bay window at the old house with me on the table while I was sewing and quilting. She would chitter away at the birds, squirrels and rabbits at the feeders. Her excitement grew when I received the suction cup feeders that attached to the windows – she would sit so still below them, chittering and shaking, until she couldn't stand it anymore and would swipe a paw at the window. Then look at me like, "See that mama? I almost had that one!"
Daddy's Memory – Mitzie had an uncanny ability to smell *water* from across the house. Whenever you poured yourself a glass of water she would appear and look at you expectantly and give a screechy meow. This would soon escalate into breathing onto your neck while you were drinking. Eventually you would put down the water having forgot she was stalking you and soon afterwards her head would be buried deep in the glass lapping it up. She would then either drink incredible amounts, accidentally knock it over, or get her head stuck in the glass and panic. (She did this from the time she was a small kitty!)
Mamatoo's Memory – I knew how much she loved drinking water. One day while in the bathroom, she came running in and I thought "I bet she would really love some really cold faucet water!" She took to it immediately. From then on she would YELL at me until I turned it on for her. It got to the point where I left it trickling so that at anytime she could get her "fix". She loved for me to pet her as she walked the length of the tub back and forth. She would then finish with a nice long cold drink. I'm not sure which she loved more, the petting or the water. It was a close tie.
She would not often sit on our laps – and she would ONLY do so if we were wearing blue jeans. She had very sharp claws, and was extremely careful, never wanting to hurt us.
We will miss her scratchy meow, slinky run, love of water, back of the couch sitting, absolutely loving and caring way. Life won't be the same without her in our home.
Mitzie was our daughter and she always will be. Until we are together again some day, we will love you more and more each day Mitzie Lee Hoofensteen.
Love,
Mama, Daddy and Mamatoo