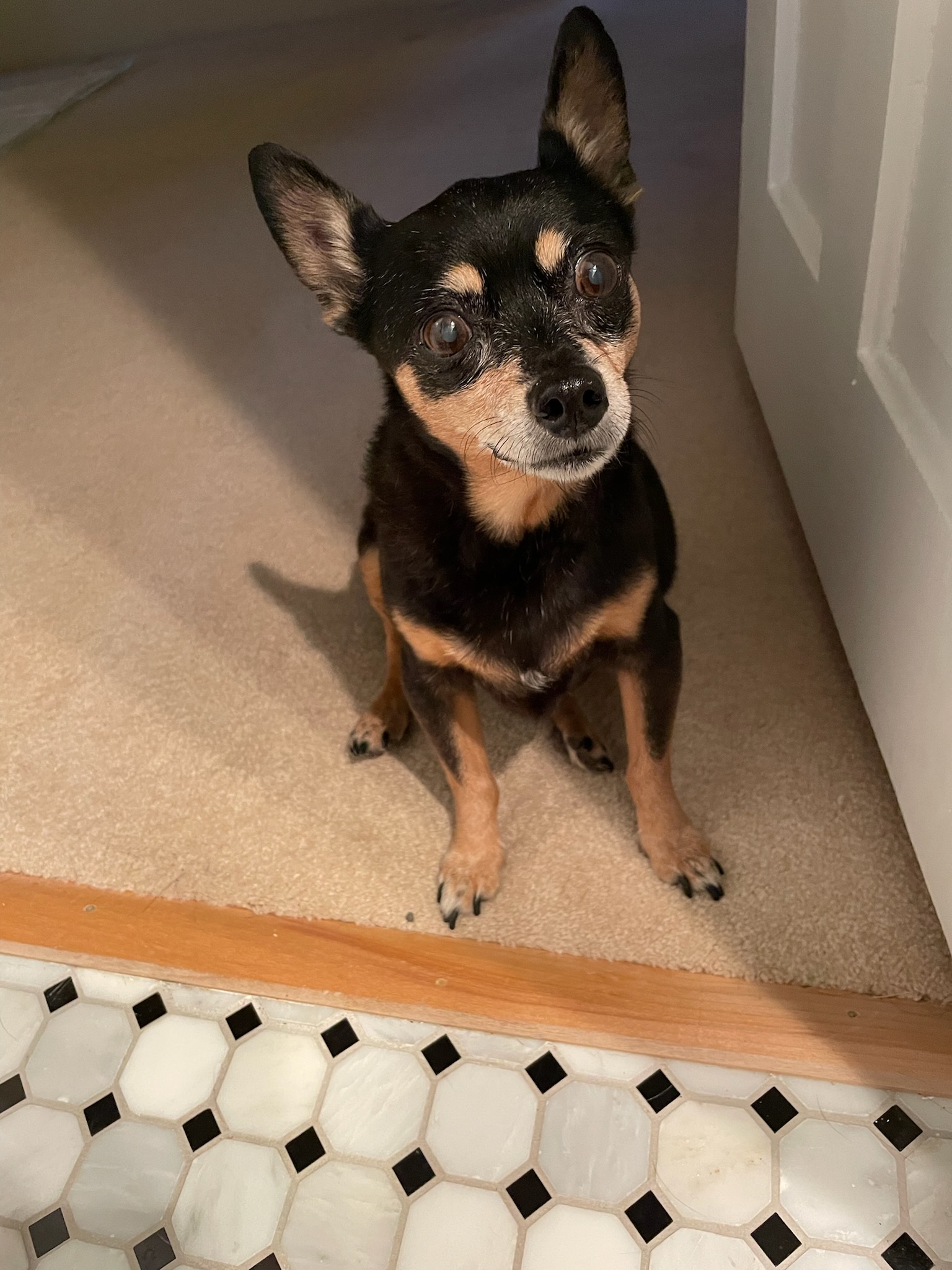 Passed on October 8, 2022
Penelope Madeline was born in Glenwood City, WI in the summer of 2005 and came to her human mom, Lindsey, that fall in Eau Claire. Penny loved running outside, playing fetch and tug-of-war with her toys, and snuggling right away as a puppy, things that she would ultimately love all her life.
When Lindsey and Penny moved to the Twin Cities in fall of 2006, Penny adapted well to apartment life, different roommates of both the human and pet variety, and adventures all around Minneapolis/St. Paul. She finally settled into a great home with her own fenced-in yard when Lindsey and Matt moved to Crystal in 2013. Matt was the most loving dog-dad. He loved taking Penny on bike rides in both the sunshine and in the snow and ice, swimming in the area lakes in the summers, playing Chuck-it in the yard and area parks, and snuggling up for naps together. He made sure she got to open a present with her favorite toy, a squeaky pig, every birthday in July and every Christmas. She got to sit in the seat of a Zamboni, run around on the ice at the rinks her mom and dad worked at, and make friends with the neighbors. She loved getting visits from her aunts and uncles, her human and pet cousins, and her grandmas and grandpas, and they all loved her.
Penny began to slow down in 2018-2019 when she stopped jumping up and down off things, she couldn't run around as much anymore, and she started losing her hearing. She still loved going on walks, getting pets and cuddles, and barking at the backyard squirrels and rabbits and neighbor dogs when they'd walk by, but she was happy sitting outside in the sunshine and taking in her surroundings. When COVID kept everyone home for a good part of 2020, she was so happy that she didn't have mom and dad leaving for work every day. She also started developing symptoms of early heart failure, but thanks to her amazing vet Dr. Carissa Williamson, she was able to keep feeling good and waking up every day happy and excited to spend time doing her favorite things…taking walks to her favorite park, getting treats, and sunshine lounging.
When Matt moved to Seattle in summer of 2021 and Lindsey moved to NE Minneapolis, it was another adjustment for Penny, but she did so well. She learned to paddle board with mom, went on walks and rides by the river, and helped Jimmy get used to having a little dog underfoot. She made a new special friend in her pet-sitter Dawn Marie, who on many occasions was able to stop by to take care of Penny when mom and Jimmy needed some extra help or were out of town. She always looked forward to visits from "the Treat Lady."
Penny passed away on Saturday night, October 8, 2022 when she woke up having a hard time breathing and got progressively worse as the day went on. She got the best care possible at Allied Emergency Vet Service in Minneapolis, and they lovingly and compassionately helped Lindsey make the heartbreaking decision to send Penny over the Rainbow Bridge. Even though her dad Matt couldn't be with her, he got to videochat with Lindsey and see Penny one more time to say goodbye. She was 17 years old when she passed away, and had a long life full of love, adventure, and fun.
Penny is survived by her mom, Lindsey, and her partner Jimmy; her dad, Matt; her grandmas Dee Dee, Ruthanne, and Julianna, and her grandpas Jon and Dan; her aunts/uncles and cousins; and many loved ones and friends who had the chance to spend time with her over the years.