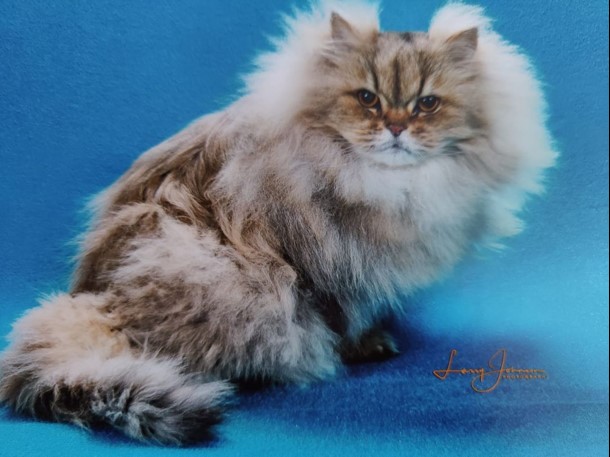 Sir Pawl McCatney forever cherished by Ann and Larry Donovan
"McCatney"
(AKA  Yukon Idaho Russet III  or "Spud" because he had a tendency to look like a golden brown potato 😊)
We lost our first 3 rescued cats within the short space of 3 ½ years.  The time went so fast; suddenly they were elderly although in very good health up until the very end.  In the wake of that emotional devastation, we went without a feline family member for several months, until we couldn't bear it any longer.  When we finally added another cat to our family, we gradually realized that we really should have adopted two, as the new addition quickly attached himself to my husband, and I was merely the servant who cleaned the litter boxes and provided dinner.
Being partial to Persian cats, our search for another rescue Persian began on Petfinder.com.  It was there that we saw a post and a video link for a brown ticked tabby Persian male who was available because his elderly owner had moved to a nursing home and wasn't permitted to bring any cats along.  The cat's name was "Bear" and he was estimated to be about 6 years old.  He and his brother had both been brought to the Sioux Falls Humane Society when their owner moved. "Bear's" brother was adopted right away, as he was the younger cat, but poor "Bear" was left alone to wonder what had turned his world upside down.
There was something about this older cat's sweet expression that just tugged at our heartstrings.  After confirming with the Sioux Falls staff that "Bear" was still available, we jumped in the car and left St. Paul for a day-long road trip to South Dakota.
When we met "Bear,"  he was sporting a Lion Clip, meaning that he was shaved naked except for the tip of his tail, a puff on each leg, and a mane of hair around his head.  We were allowed to take him into a small private room to get acquainted.  He was nothing if not friendly, and when he realized that we knew how to give proper kitty scratches under the chin and around the ears, he was glued to our sides.  We would not be leaving without him, but his name had to go!
We always name our cats after famous people (with a feline twist) so we tried a couple of names out and settled on Sir Pawl McCatney, which really seemed to fit him.  He was smart and mellow, and as his hair grew out, he really seemed to have a Beatles type "shag" going on.
We showed McCatney in the Household Pet classes in both ACFA and CFA shows.  He had a number of modest wins in both associations, and then this past February we showed him at the CFA show in Des Moines, Iowa.  I finally figured out how to groom his coat just perfectly and he won two Best Cat in Show awards as the oldest cat competing.  We also took advantage of the Show Photographer who was onsite at the cat show that weekend and scheduled a photo shoot for McCatney.  Thanks to the very talented Larry Johnson, the photos turned out beautifully.  We are so grateful to have those photos ~ especially now.
McCatney was such a gentle soul with large expressive amber eyes.  He had the softest and most luxurious coat we had ever seen.  When he moved, he moved with a purpose.   And, as he was a pretty solidly built boy, you could always hear when he was on a mission to get somewhere.  All he ever wanted was to be near someone who would pet him and tell him what a good boy he was.  McCatney was the quietest of all our "fur-kids," as his meow was barely more than a whisper.  Occasionally, he actually had a silent meow!  He would often follow us around the house, park himself directly in front of where we sat and put a paw on our calf to say he wanted a caress.  He was a lethal mouser and any rodent that managed to sneak into our house from the woods outside met his match in McCatney.  He also never met a food bowl his didn't like or a treat toy he couldn't wrangle.
On early Wednesday morning, April 5th, McCatney was met at the Rainbow Bridge by those who went before him;  his brothers, The Three Mouseketeers: Meow Tse Tang,  Sir Winston Purrchill, and Pawblo Picatsso, as well as his poodle sister, Honey.  We are certain McCatney has already discovered, that in this new place, there are endless treats and abundant sunny spots to take naps in, not to mention the many kind hands willing to pet him endlessly.  He is greatly missed by those who remain: Alpurrt Einstein, Liza Mewnelli and Grand Premier Highlandkatz Fernando, as well as his grieving Mom and Dad (Ann and Larry Donovan.)
It is our hope that, by telling McCatney's story, it encourages someone to adopt an older cat that needs a home.  They have every bit as much love to give you, and a 6-8 year old cat is not "old" at all.  We had many wonderful years together and we feel blessed that McCatney gave us the best years of his life.  We look forward to the day when we will see you again, sweetest boy!