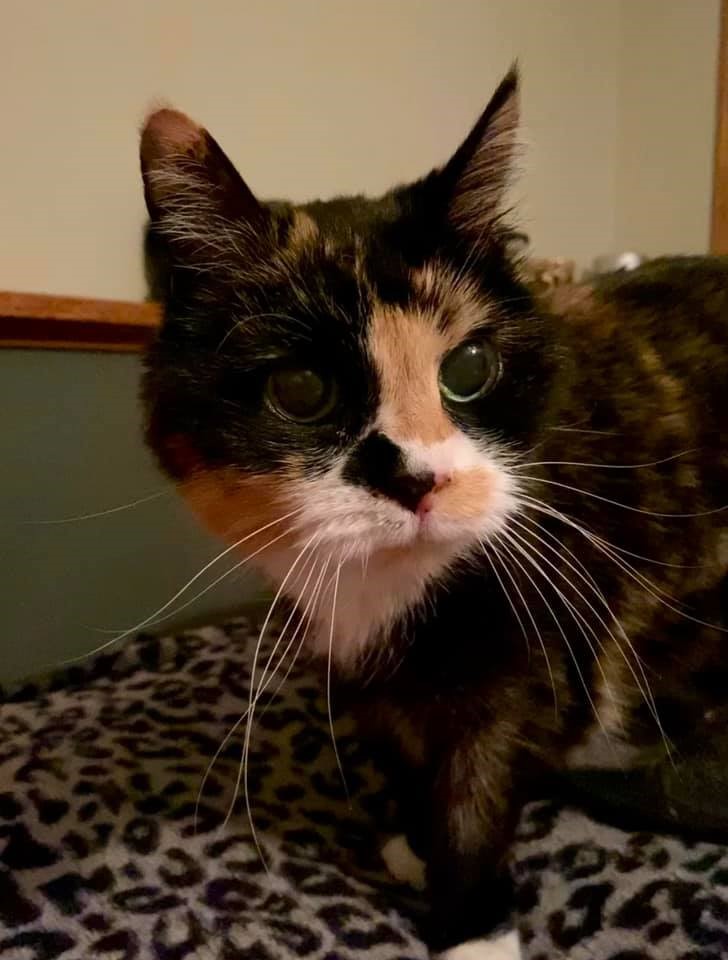 About Stella Johnson-Borncamp
Passed on August 15, 2021
On Sunday afternoon Aug. 15, 2021 we said goodbye to our kitty, Stella, as she crossed the Rainbow Bridge.
Stella came home with us nearly 17 years ago on Aug. 28, 2004 following a spontaneous trip to the Animal Humane Society when we had intended to "just look" at the kitties there. After Stella picked us, I started getting cold feet about my lack of preparation to welcome a pet into my home. Zac told me "this kitty is coming home with us today, even if she lives with me…" and she did! (This was about six months after we started dating and she before we lived together.) After adopting Stelly we made a quick stop at the pet store on the way home to my condo. Zac ran in to get food, littler, a litter box and some toys and I stayed in the car with Stel, who tried to bust out of the cardboard carrying case the Humane Society gave us to bring her home in.
Less than a year after welcoming Stella home we decided she needed a sister, and Kylee/Grey joined our pack. Although she adapted, I'm pretty sure if Stella could talk she would have told me "no, I do not need a sister!" It took close to a year for Stella to get used to sharing our home with the younger kitty.
When we bought our house in 2010 and moved in together, Zac and I merged our kitty families, which made us true cat people with a family of four kitties. We were surprised that Stella ended up as the alpha cat and kept everyone else in line, terrifying her brothers.
Stella loved watching her birdies and squirrels, going fast (racing down the hallways at the condo and through our house), wrestling with her sister while we made the bed, playing laser and playing with her favorite toy, purple mouse. She also loved going for rides in Zac's truck and checking out holiday lights. Stella learned to LOVE her feline sister, and my nephews, who she trained from their earliest days how to love on kitties. As soon as she discovered they had hands which gave good scratchies, she sought them out whenever they visited.
We've always referred to Stella as a "2001 model," which means she lived for 20 years – which is pretty phenomenal for a kitty. We were so lucky to have Stella bring joy to our lives and to have been in good health for nearly 17 of those 20 years during which she was ours. Even though we knew this day was coming, it doesn't make it any easier. Our hearts are broken and our home is a little bit quieter as we remember our sweetie. She was so very special to us and will be missed.